Greenhouse Effects Goldrive
Saturation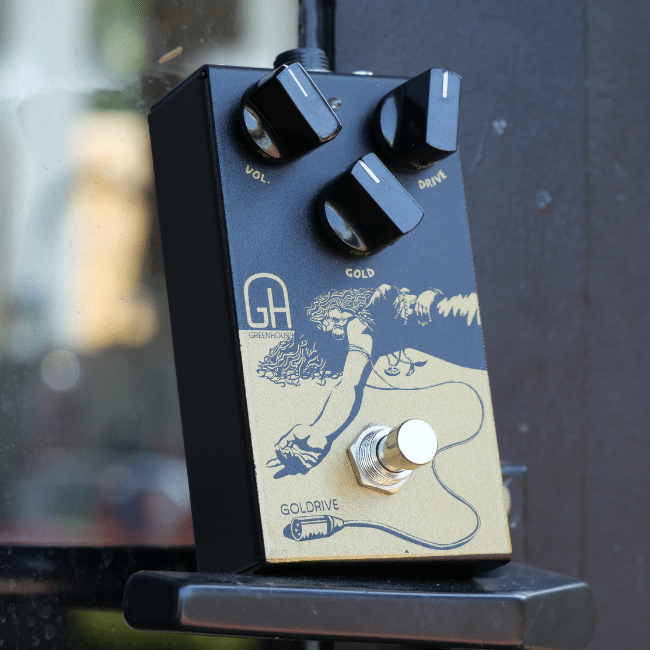 The team's opinion: Friends, we have decided to spoil you, what am I saying? To rot you! The Greenhouse Effects Goldrive is an ultra rare effect pedal and above all… that sounds like death!! If you're looking to stand out from the competition, this pedal is for you! First point, it is extremely well finished and the design is to die for. The Israeli brand hits very hard. But what about the sound? It can be summed up in one word: Surprising.
Before getting to the heart of the matter, you should know that this pedal works better with PAF-style Humbuckers than single coils. Once these considerations are made, we are dealing with a furious and very particular Overdrive. Indeed, although the gain does not go extremely high (it is above all an overdrive), its structure is quite new. When we plugged it into our DV Mark (a real effects pedal platform) and pushed the gain we noticed a rich but "crunchy" overdrive as if the amp was on the verge of implosion. . So we tried on another amp and the result was the same!
So, we pushed the vice to contact the manufacturer and rest assured it's normal! The on-board circuit simulates an amp at the end of its life to rediscover the sound of 70's recordings! So many good effects pedals offer this "crank" effect (I am thinking in particular of the Box of Rock or the Hard On) but the Goldrive pushes the vice to an unprecedented level. Knowing this, chaining shots like Thin Lizzy becomes a treat! You really have the feeling of having an all-tube amp, pushed to the limit and then passed through a worn analog tape. Very convincing and atypical. Additionally, this is a very rare pedal on the used market, no longer manufactured and offered here in like new condition. Vintage lovers, it's for you!