If there is one question that comes back to the lips of most guitarists, it is recording! Subject as thorny as it is technical at first glance, you will see that in the end it is not so. You will have understood, today's article follows the last video Youtube and I will explain to you how to record his electric guitar.
Whether you are an amateur or experienced guitarist, recording occupies a very special place in our minds. Indeed, when a riff comes to us it would be a shame to miss it! After all it may be the tube of tomorrow. But don't worry, it's not that complicated to record your electric guitar.
In this article I will present 3 ways to record, each with its advantages and disadvantages! So happy ? 😉
1. Plugins
Well… unless you're coming out of a cave or rejecting technology (if it happens!) you must have heard of Plug-ins by now. This is the first recording technique and probably the easiest!
To use these, just plug your guitar directly into the sound card and forward! Everything else is done on your computer. Admit that it makes you want?
Once on the software, you just have to make your settings from it. You can go in a few clicks from a clean Fenderien sound to a typical Mesa Boogie saturation. We're not going to lie to each other in terms of flexibility, there's nothing better. Most of these plug-ins are found in the middle of a fairly complete software offer: overpriced amp emulations, pedals and sometimes even guitars (yes, I'm really convinced on this one…)
The very many brands present on the market are waging war to offer us ever more realistic and accessible simulations. I naturally think of the excellent products from Neural DSP, Overloud or Bias FX-2.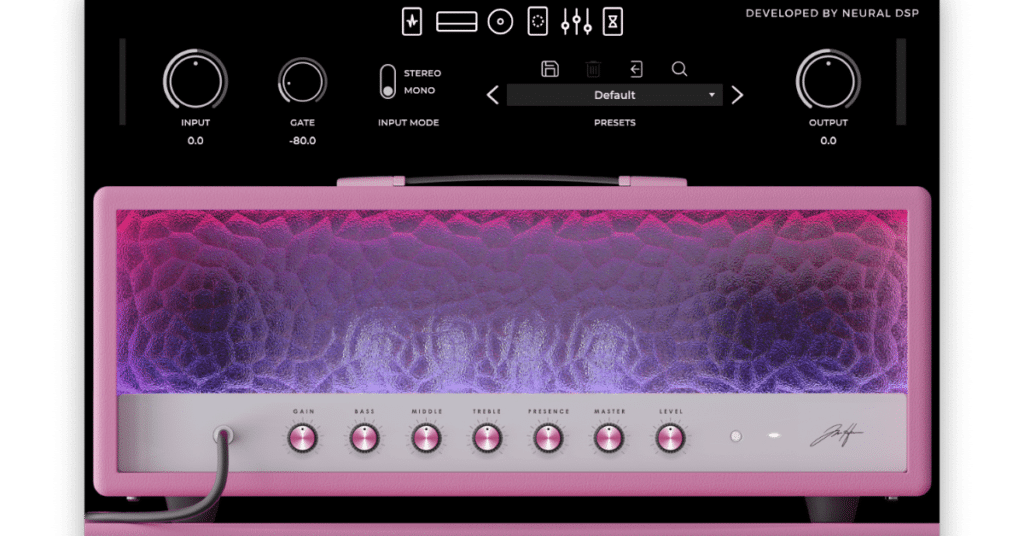 On top of that, the plug-ins allow you to record your electric guitar silently! Isn't that beautiful? But as with all techniques you will see that there are advantages and disadvantages.
– The price : Count between 99€ and 299€ (on average) for a complete offer.

– The simplicity : You plug your guitar into the sound card and... you play!

– Flexibility : Need a clean sound, a crunch and a big saturation? Carefree ! You can set it up in seconds. As it is an infinitely adjustable signal, you can change the sound during production! You find that an orange sound would be more suitable than the Marshall chosen before? No worries, in one click you switch, even if the tracks are already recorded.

– The sound : Even if the latter have progressed, the sound is still below a real take... This phenomenon is even more obvious on complete software like Amplitube, some simulations can be very good and others... bad.

– Too many choices : This point may seem surprising but often the plug-ins offer far too many choices… So much so that we quickly spend more time looking for a sound than playing.

– If you like his amp... : Well you just can't save it. We can find a simulation close to the latter but the rendering will necessarily be different.
2. HP Simulators
As you will have understood by following the channel, HP simulators occupy an important place in my heart. During my (very) short career, I had the opportunity to see several: Two Notes Captor X, Universal Audio OX, Suhr Ir Loader and more recently the Boss TAE.
Forced to recognize that these devices are essential in the world of Home-Studio (just see the number of youtubers using them). And in recent years manufacturers have understood this! But why this enthusiasm?
Quite simply because speaker simulators (and other loadboxes) will allow you to record your amp, while offering you a multitude of CABs and mikings that can be controlled from your computer and all... in complete silence! And that when you're looking to record your electric guitar at home, that's great.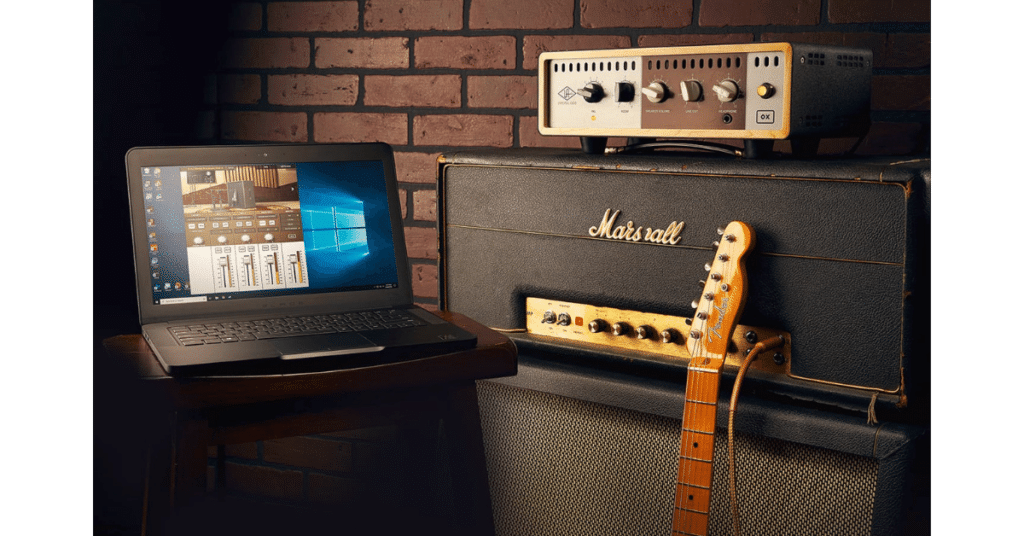 The software offer behind these devices will allow you many possibilities! Do you want to attach a 4×12 in V30 with an SM57 and an Aea Ribbon to your dear Marshall? Carefree ! Ah, do you realize that the V30 can be a bit extreme and the SM57 is a bit spicy? No worries we go on a Creamback and move the microphone off the axis. Add to that the possibility of adding effects and studio atmospheres, this alternative has quickly found a place in the hearts of chamber artists! (and even in some studios).
Could this be the perfect solution? Honestly, I would try to answer you in the positive. However, I will be obliged to be as impartial as possible in presenting the advantages and disadvantages of this technique.
– The sound : Hp simulators sound good! Well, not all of them, but most of the big references offer you a rather faithful rendering of your amp.

– Record your amp silently : And yes ! What could be better than finally being able to use your Mesa Boogie Dual Rectifier that you traded for a kidney? Thanks to a Hp simulator you will not only be able to record your favorite amp, but also push it without starting a neighborhood war!

– Experiment : Speaker simulators are an excellent introduction to the placement of microphones and learning how to render loudspeakers! You will see that it is easy to get caught up in the game. Add to that that some models offer excellent on-board effects or atmospheres specific to certain recording studios and you have the ideal tool in your hands!
– The price : Yes … we're not going to lie to each other, a good Hp simulator pays off! Two note managed to offer a rather decent price with its Captor X (about 500€) but this is not necessarily the case for the others! Count 1200€ for the OX and no less than 1300€ for the Boss TAE. Yes it stings...

– The sound : Ok there you will probably say that I abuse … but I come there! It is obvious that good speaker simulators have a very good sound. But faced with a real catch, the most knowledgeable users will make the difference. Especially on vintage crunches and other playing styles requiring a lot of expressiveness. Very vintage fuzzes can also be problematic. For the rest it's all good!
3. The real catch
Quite simply the queen method for recording your electric guitar = my favorite. This is the classic way, used for over 60 years and still widely used in the studio. But how do we do it?
If you want to schematize to the extreme, just put a microphone in front of your guitar cabinet, you push and hop to us the sound of phew! So yes, but not only.
There are many methods, using 1 microphone, 2 microphones and sometimes a 3rd! But be careful, the more you add, the more parameters you will have to take into account. But that's not the point. Generally, I advise you to start with a single microphone. A simple microphone like the E906 from Sennheiser.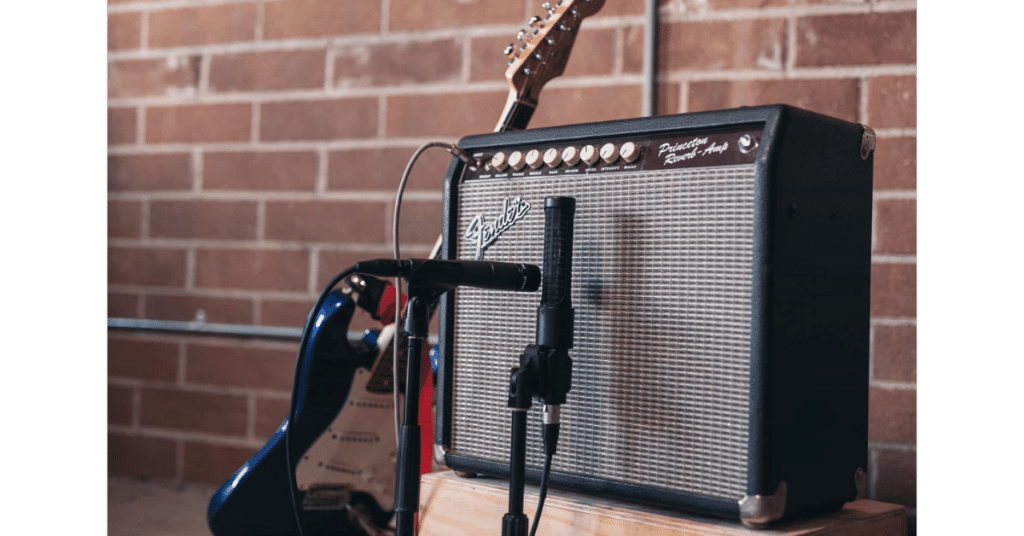 For an even more professional rendering, it is possible to add a preamp (tubes or transistors) between the microphone and your sound card. The placement of the microphone is of great importance: the more you are in the center the more the sound will be "higher", the more you move it towards the edge, the more it will be "lower". It's up to you to find the right compromise.
When you have passed the technical milestone, you can then enjoy the rendering of your amp and your favorite cabinet! Unfortunately, like all techniques, the latter has advantages and disadvantages.
– The sound : And yes … it is simply the solution that will give you the best sound reproduction. Here there is no simulation, we are in the real. If you have found the perfect combination, you should be able to have a result that meets your expectations.

– experimentation : There is nothing more pleasant than experimenting with the placement of microphones, the choice of microphones as well as preamps! If you like to try things, this solution should make you happy.
– The noise : a real plug makes noise … for a tube amp to give good results, you have to push it a minimum. If you have neighbors it may be complicated … and to do your checks even more.

– The price : Combining preamps, microphones and speakers is nice. Checkout much less! Especially when you know that some ribbon microphones can cost up to 1000€ each!

– The complexity : The placement of microphones is not easy at all, at least at first. Depending on the microphones, a few centimeters ready you can go from a good sound to a very disgusting sound! And I'm not even talking about the difficulties in gauging everything properly if you add a 2nd or even 3rd microphone (problem of placement, phase, etc.)

– acoustics : point neglected by 80% home-studio owners! Having amazing gear is good, having a room with good acoustics is better. If you want to take real takes, it is in your best interest to have a room that is at least prepared, otherwise you will suffer from untimely rumbles in the lower end of the spectrum.
How to record your electric guitar? Broad topic ! I hope this article will help you see things more clearly. Know one thing: there is not one method superior to another. It all depends on your needs and your budget. Because you can have very good results with plug-ins and very bad things with a real plug! 😎