Let's leave the colorful and joyful universe of Decode to turn to a radically different style, Groove Metal. If the guttural songs bother you and the Low tuning worries you, we invite you to go your way. However, if the extreme overdrives dictated by the devastating snare hits send shivers down your spine, you'll love it! Today we are going to talk about Metal with the group Red Gordon. Go!
First of all: Do you like beer? Red Gordon yes. An immeasurable love having pushed them to baptize their group, not with holy water, but with the colors of a mark of binouze (very average according to them). And just that, it slams. Enough joking and let's get to the heart of the matter.
Red Gordon is a Groove Metal band, founded in 2017 in Clermont-Ferrand. This is a quartet composed of: Tao on vocals, Aurélien on guitar, Yohann on bass and Niko on drums. This friendly band from Clermont, draws its inspiration from many references from the metal scene: Slipknot, Korn, Lamb of God or Iron Maiden. These influences allowed them to establish solid foundations for their compositions. Because yes, Red Gordon gratifies us with several titles, available in the form of an EP entitled "Smoke River".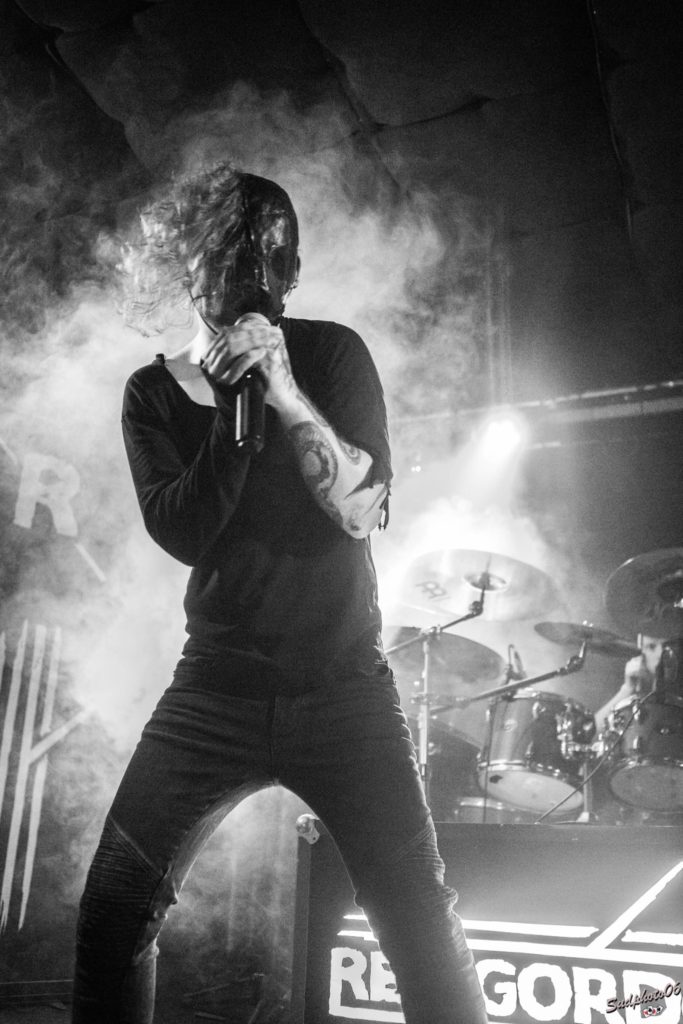 And this EP, let's talk about it! Composed of 7 furious titles, it allows us to better understand their universe. After an enigmatic introduction, responding to the sweet name of "intro", the album begins with a title as nervous as it is effective entitled "Virgin is not a saint". Grainy vocals and effective guitar harmonics in the service of a piece written to trigger pogos and other "Pits" live! After a piece in the same vein giving pride of place to the drums, we arrive on a surprising title, responding to the name of She's a witch. Soft introduction, singing mixing French and English, we have the impression of a ballad until ¾ of the piece, when the heavy artillery lands. Then comes an interlude reminiscent of Ultra Vomit's "troll" songs to better introduce the group's single "Fuck and Bye". Piece of darkness and assumed violence, supported by an incisive and distressing rhythm, bringing a hypnotic side to the limit of Stoner on the verses. Note that this piece was the subject of a clip, which you will find at the end of the article. Red Gordon hits hard with "Fuck and Bye" and hardly leaves us time to get up when a new track arrives: "Back in the street", the title coming to conclude this EP. What ? Have we come to the end already? 
So what to remember from Smoke River?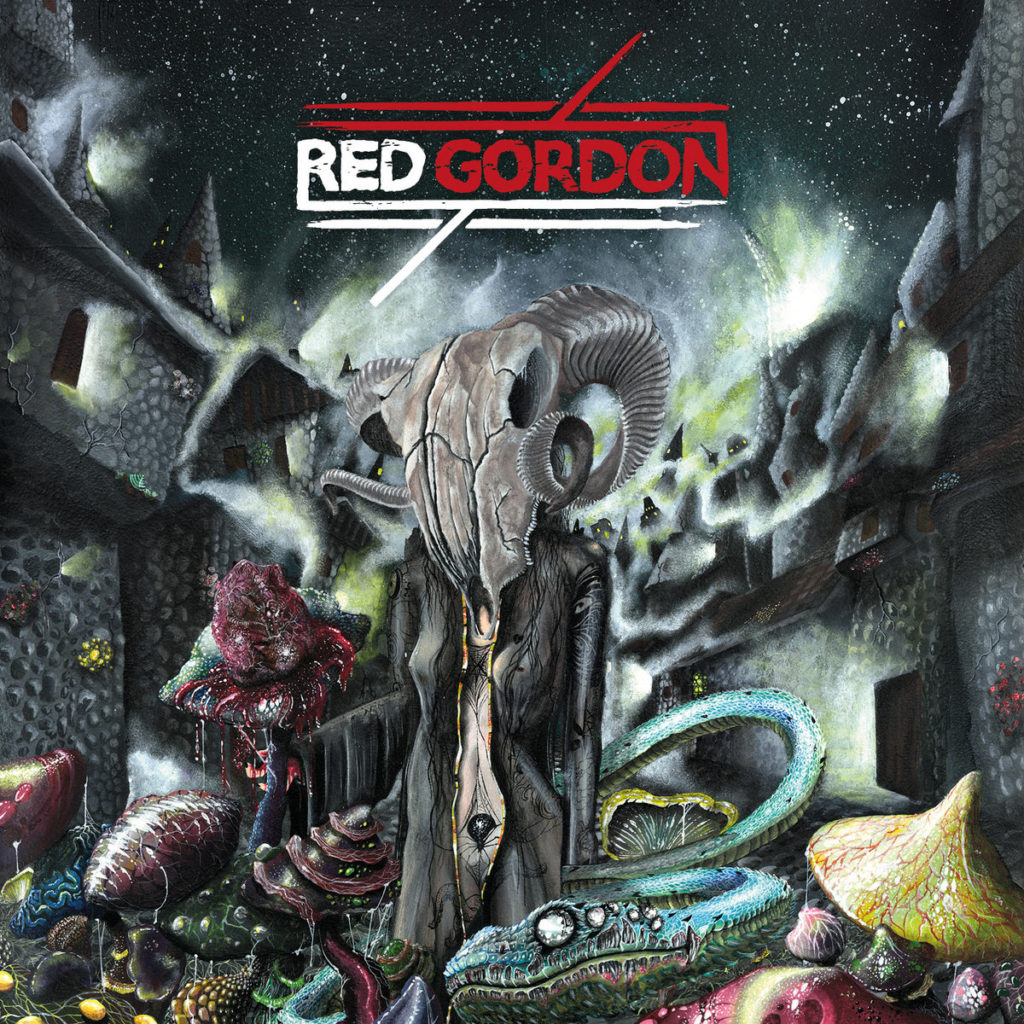 Let's break the suspense right away: the group's first Ep is very promising for the future. Indeed, this restless journey within the universe of the Clermontois will not leave you unscathed. The sounds and vocal parts are certainly not intended for all audiences, but the energy and inspiration of the band should be enough to rally a good number of supporters to their cause. Beyond these considerations, this is a sincere and demonstrative EP of the group's ambitions: A quartet driven by an ardent love for the stage and the obvious desire to perform in the four corners of France (and even elsewhere ). 
Red Gordon does not seek to address difficult, social or political issues. No. The group seeks above all to have fun, and to offer its audience a shot of energy. In our opinion, Red Gordon is one of those explosive bands, made for live. Despite their freshness, they have a very professional approach, both in their music and visually. You are still here ? Go see them on stage! 
And the guitar in all this?
We are going to put an end to this endless suspense by revealing to you what makes the heavy and surly sound of Red Gordon!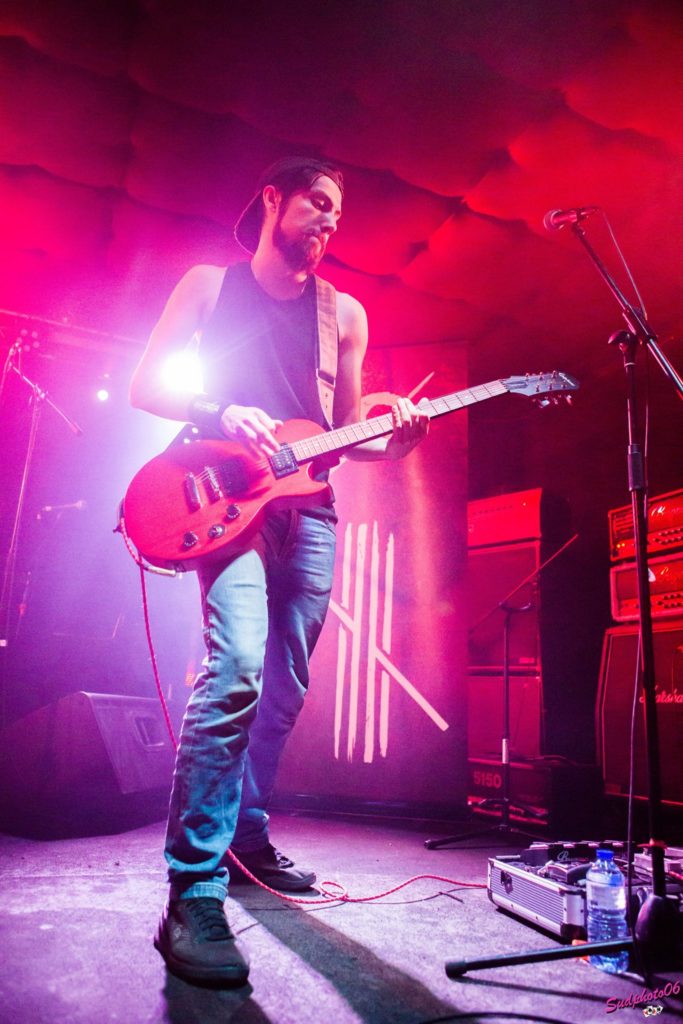 It's not a surprise, who says Metal, says guitars. You know, usually guitars detuned to Drop C for a really heavy sound. Yes, usually coupled with high-gain amplifiers, designed to summon demons!
Here, it is Aurélien who has the honor of defining the sound signature of the group. It will become a tradition with each article, but we went to meet him in order to know his secrets and present his Rig to you in detail.
Aurélien is Red Gordon's only guitarist. It is enough to listen to the repertoire of the group to realize that the rhythm occupies a dominating place, not to say central. Indeed, Red Gordon does not particularly offer guitar solos. The latter has here a rhythmic role, serving to accentuate the heaviness of the bass and the drums, thus delivering a coherent whole.
Guitar
Clearly, most of the guitarists we meet are aficionados of Les Paul shapes! This is going to have to change 😉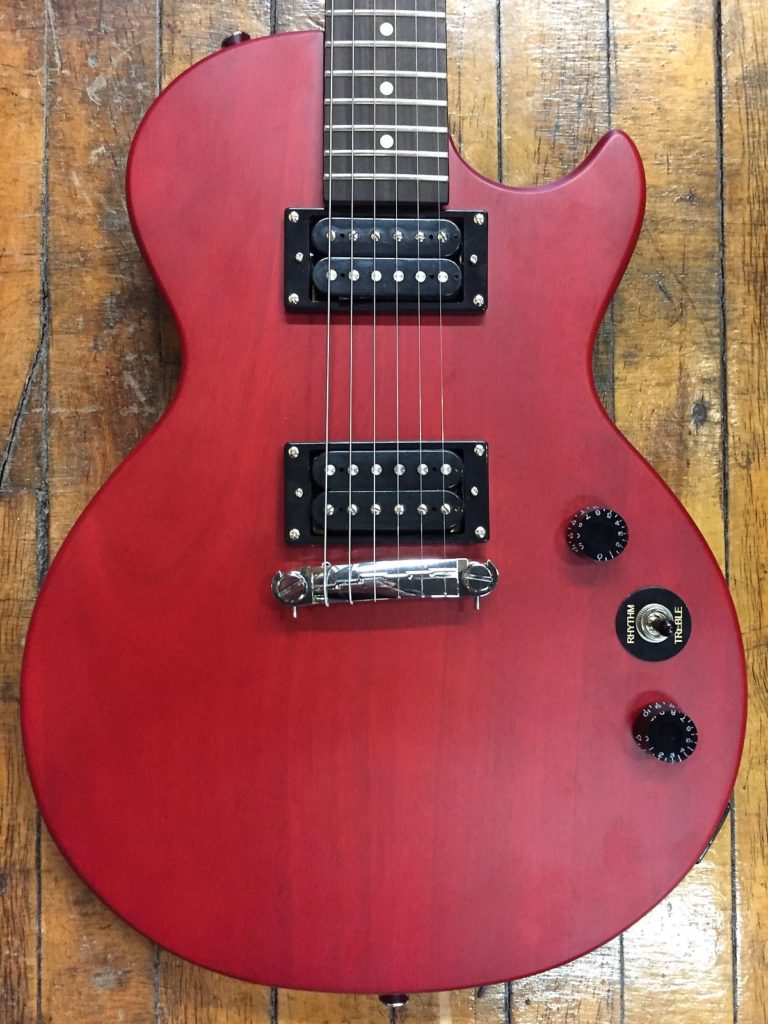 For his main instrument, Aurélien decided to turn to Epiphone's version of the legendary Les Paul, playing on the "Special Vintage Worn Cherry" model.
If it does not have the same characteristics as its big sister from Gibson, it is nonetheless a good quality instrument that meets the expectations of the musical style. Its ebony neck combined with the humbucking pickups dear to the brand brings a roundness and a satisfactory tolerance to saturated sounds.
In addition, this combination is particularly suitable for low tunings, specific to all subgenres of metal.
Booster
 If you have already considered the musical style discussed today, you will know that the amplifier plays a major role. Obviously this rule is common to most musical currents, but the cutting edge of Metal is not accessible with most amplifiers. Many tend to favor high-gain amplifiers, thinking that might be enough to get the sound you want. Although consistent at first sight, the reality turns out to be more delicate. Because let's not forget that what makes this heaviness is above all the dynamics and not the gain. Pushing the gain of an amplifier to 10 will unfortunately not be the happiest of operations because beyond a certain level, your signal will be drowned in the mix, the fault of a lack of dynamics. It is therefore necessary to find the balance between distortion and dynamics, not easy in short! But let's get back on topic! For the amplification section, Aurélien turned to a sure bet from the Bugera brand: the 333XL.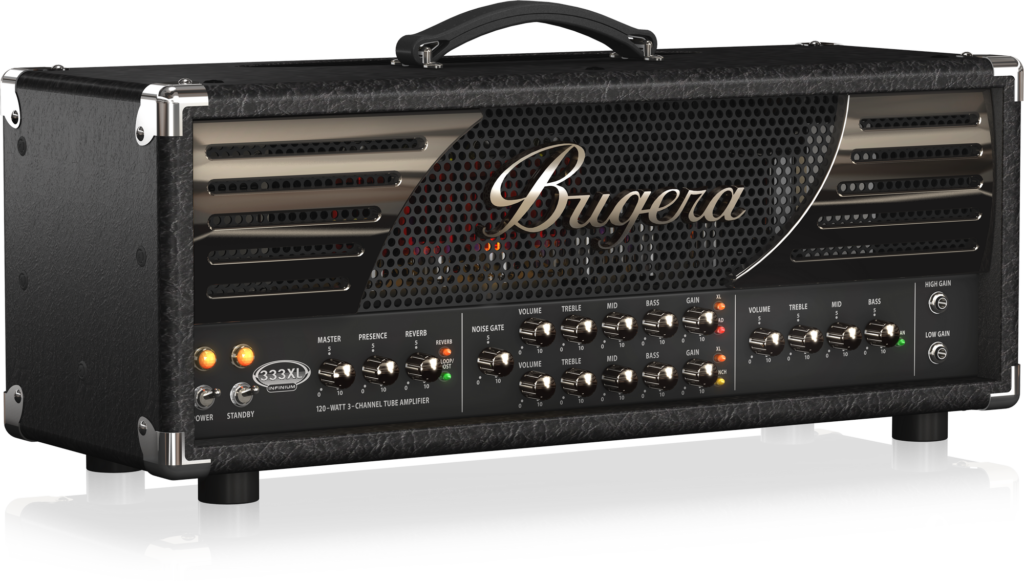 This is an all-tube 120W amp well known to the metal scene for its features and its almost unbeatable value for money. Aurélien told us that the grain of the amplifier suited the band's style perfectly: "I mainly use the Lead channel on the most nervous parts... but be careful, I don't skip the Crunch channel, because this last one has a really interesting "chunk"! And then on certain introductions I need a wiser sound to be able to send the Lead behind. In Low Tuning the sound can quickly become messy, but that's not the case with this Bugera, provided of course you don't push the gain to 11 out of 10! »
Effect Pedals
Now let's talk about the favorite part of the Effects Area, the effect pedals!
Like our previous interview, Aurélien has a rather minimalist pedalboard that perfectly meets his expectations: "With Red Gordon, we rely a lot on explosiveness and communication with the public. So, I try to minimize everything that can "interfere". In addition, being the only guitarist, I try to focus on the rhythm and the coherence of my sound. But hey, I still use effects, don't mess around… In particular, 2 pedals are essential for me! »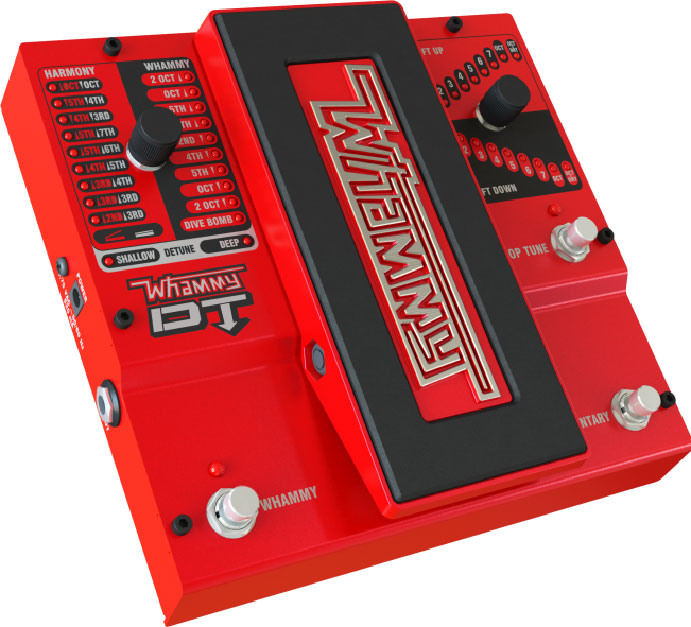 And these pedals here they are: The Digitech Whammy DT and a Behringer VD400 vintage delay.
So, is it necessary to present the Whammy DT? Good if you insist! It is a Detune, Harmonizer and Pitch pedal. Excuse a bit! Democratized in the 90s by a certain Tom Morello and widely used in the 2000s by Matthew Bellamy (Front man of Muse), this pedal makes it possible to modulate the pitch of the notes via the action of the expression pedal, either via its switches. This will make it possible to obtain an octave sound 2 tones lower or, on the contrary, one octave higher.
By using the expression pedal, it is possible to "cycle" between pitches in real time, creating that typical sound. Special mention to the DT model, which simulates a 12-string guitar.
"I love the Whammy… It allows me a lot of madness, especially in terms of tuning. In fact, it allows me to go even lower without touching my mechanics while bringing a really special color. Sometimes, during harmonics, I really like to use it an octave higher to break through the mix in an atypical way and leave room for the bass. »
And suddenly, concerning the Delay?
"So I'm not a fan of modulation effects, but I sometimes use this little delay. Especially on certain introductions like "She's a witch". I tend to put fairly short repetitions to give depth and simulate a chorus. Afterwards we are working on an album, and maybe I will use this type of effects more intensively, who knows?
Well thank you Aurélien for these details 😉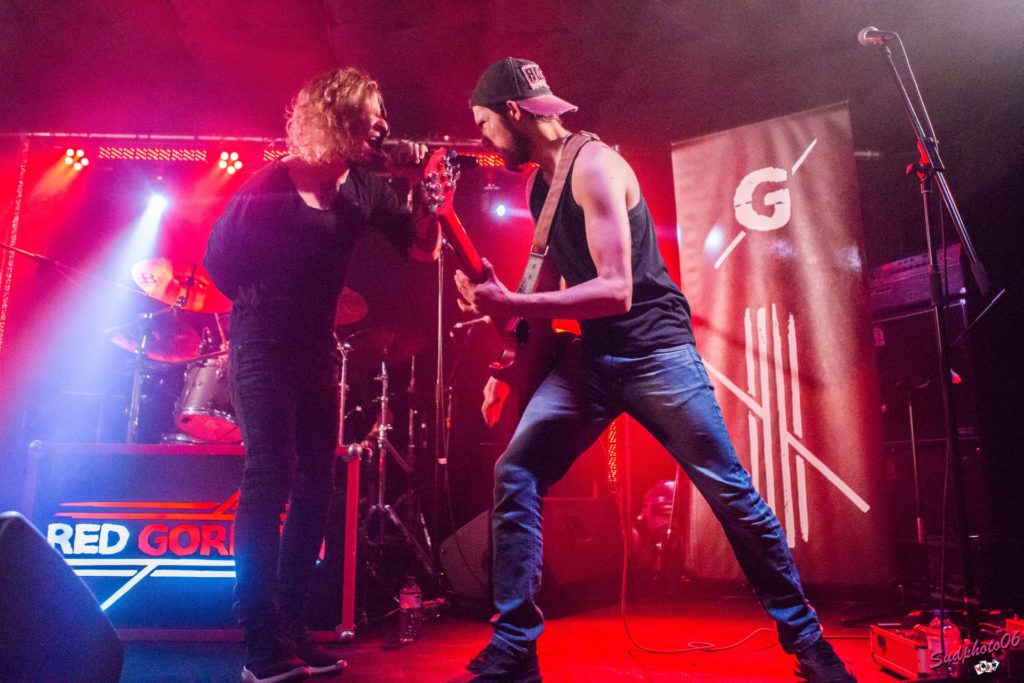 Do you know what we liked about Red Gordon? Beyond an obvious musical quality it is above all this communicative energy and this sincerity towards the public. Exit the clichés around metalheads… Some would say that they are creepy, others that their music is belligerent. Well too bad for the detractors, because they are probably missing out on an emerging band from the metal scene that really has something to offer. For the curious, we invite you to follow them in their saturated adventures!
Facebook page : https://www.facebook.com/RedGordonMetal
Site : www.redgordon.fr