Music soothes the soul. Yes, although we previously talked about Red Gordon (link), a band determined to summon demons, we also love Pop and Rock in a broader way! And that's good, because today we're going to talk about The Lonely Pears, a band at the crossroads of two genres. Let's go 😉
Before getting to the heart of the matter, let us introduce you to this friendly Riviera quartet!
The Lonely pears is a rock cover band from Nice (birthplace of Effects Area Wou-Hou) composed of Souki on vocals, Chris on bass, Jey on guitar and Tony on drums. Of course each member gives of his person on the backing vocals. Endowed with a sacred sense of rhythm and a flawless interaction with their audience, The Lonely pears draw their influences from legendary bands such as Led Zeppelin, ACDC, The Hives, Oasis and Wolfmother. During our meeting, the latter told us that they had only one objective: To make the audience vibrate throughout their live under the aegis of rock'n roll!
Behind this explosive cocktail hides a coherent group, served by talented musicians. Do us a favor, as soon as the situation allows it, go see one of their live and close your eyes. For a moment you'll feel like you're in front of Patti Smith. Yes, very good point, the frontman of their group, Souki, has a vocal grain reminiscent of the Punk legend inducted since then into the Rock & Roll Hall of Fame. You know a powerful voice, endowed with a natural distortion while keeping this touch of femininity which one could not do without. On the side of the musicians, the group does not kick in touch. Although the formation is only composed of 3 instruments, the symbiosis between the musicians is strong. The Drums'n Bass complicity of Tony and Chris is strongly felt and wonderfully propels Jey's restrained technicality on the guitar. No frills or outrageous solos, no, but rather effective plans in the service of a purpose that could not be clearer: Shake up, dance and don't forget to have fun.
What to remember from The Lonely Pears?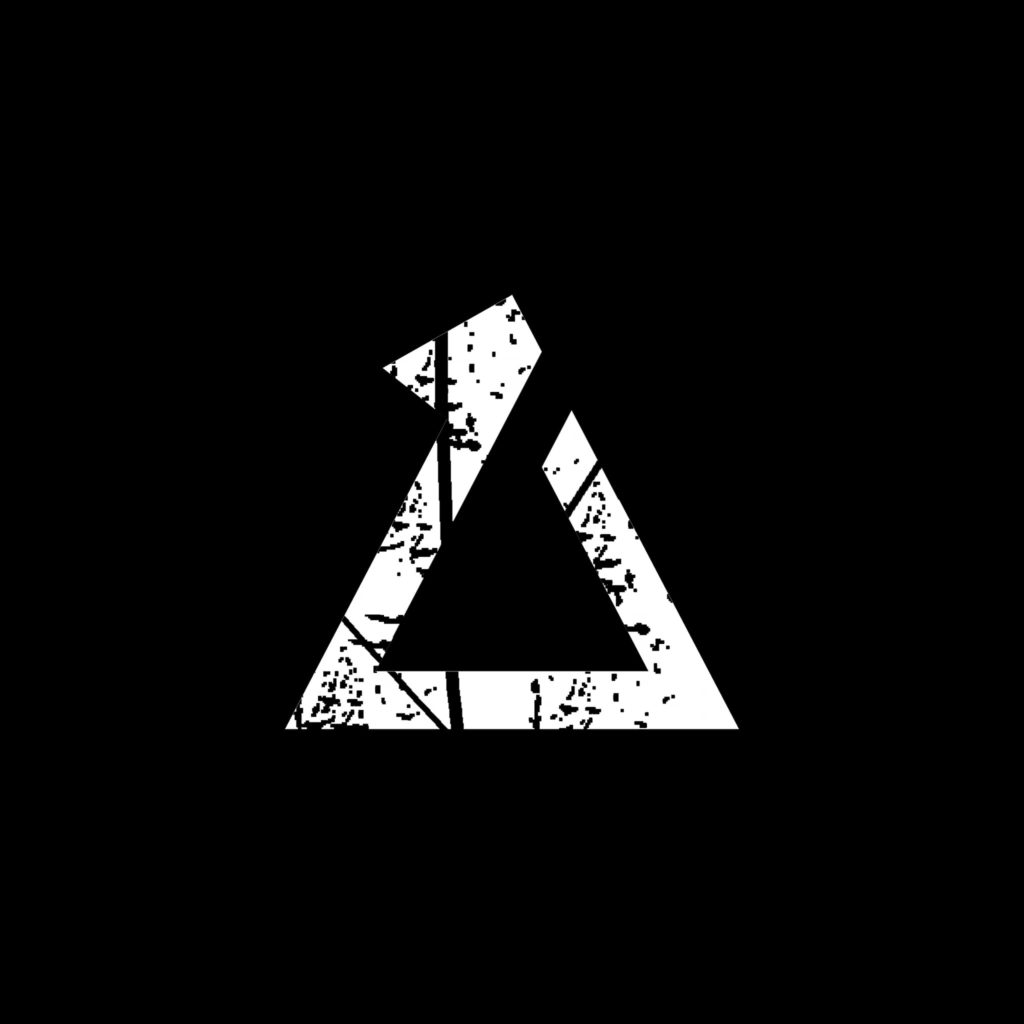 Can we say that pears never fall far from the tree? Do not see in this risky metaphor any insult! Because if here the tree symbolizes rock, the Lonely Pears can boast of being legitimate offspring.
Although they don't have an EP to their credit, The Lonely Pears are still a very active band, especially on the local scene. With many scenes to their credit, the quartet has always been able to federate its audience. Despite the unpleasant events of the last few months (you know it starts with C and ends with D, and no, it's not an insult, I promise!), the group has managed to stay in touch with the public by offering a free live on the Twitch platform! The latter have also told us that the proximity to the crowd was starting to be felt sorely. In any case, we wish them to be able to reconnect with their audience as soon as possible.
And the guitar in all this?
Come on, we're good for the traditional part dedicated to our favorite instrument. To prepare this article, we therefore approached Jey in order to see a little more clearly. And one thing is sure, this rig will not disappoint you!
Guitar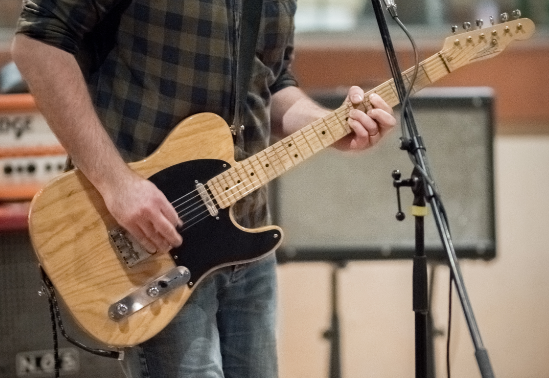 After dealing with Les Paul lovers (Decode, Red Gordon), we finally came across a Telecaster lover! But not just any Telecaster. In order to stick as well as possible with the sound that was running through his mind, Jey decided to have his own Custom assembled by a luthier (François Calais). On the whole classic in appearance, this version made in France has all the characteristics dear to the late Léo Fender, period 50/60. Our guitarist's goal was to get as close as possible to the sounds of his favorite bands. Yes, Jimmy Page played part of his career on Telecaster. Crazy eh? 
Moreover, it probably did not escape you but the Telecaster is a guitar perfectly suited to the needs of The Lonely Pears. Aggressive, biting and incredibly dynamic, it is able to withstand generous saturations while being discreet when necessary. A wise choice for a group gravitating in the Pop/Rock universe.
Booster
In order to make his beauty sound the best, Jey decided to turn to another safe bet in the field of amplification: The Vox AC30!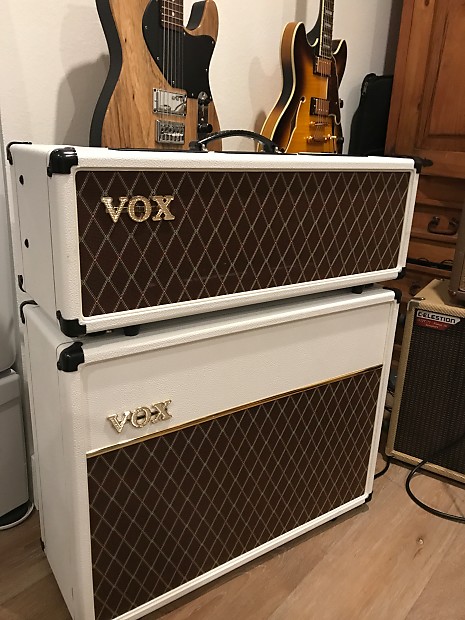 Ah the Vox AC30 … is it still necessary to present it? A model that has become legendary thanks to the host of celebrities who have helped define the British rock sound of recent decades. The Beatles with John Lenon, Jimmy Page with Led Zeppelin, Eric Clapton, Brian May from Queen, The Edge or more recently artists like Miles Kane or Alex Turner the list is long … and includes musicians from all walks of life. To put it simply, it is possible to hear a Vox AC30 on most of the albums produced. This success is due (among other things) to the incredible versatility of the latter, as much at ease in clean cleans with silky basses as in the most fuzzy saturations, dear to Hard Rock guitarists! Icing on the cake, in addition to having a strong character, the latter is rather "pedals friendly". But beware of its power! 
However Jey has a rather particular version of the VOX. If we knew the Vox AC 30 in its classic combo form, the latter has set its sights on a head version, called Vox AC30 HH. Here, the amp is coupled with its dedicated cabinet in 2×12. So why this surprising choice?
"The vox AC 30 is hands down my favorite amp. Unfortunately, the combo version does not weigh far from 35kg. Accustomed to medium-sized stages and not having a technical team, we had to find a way to lighten everything. Solution found with the purchase of the head version and its dedicated cab. The sound is the same as the combo version, but from a logistical point of view it's much simpler » And we understand that.
Effect Pedals
If we have been accustomed until now to guitarists who are not very fond of effects, this is not the case for our musician of the day! The latter uses several pedals, saturation or modulation, and it is a pleasure to go through them with you below.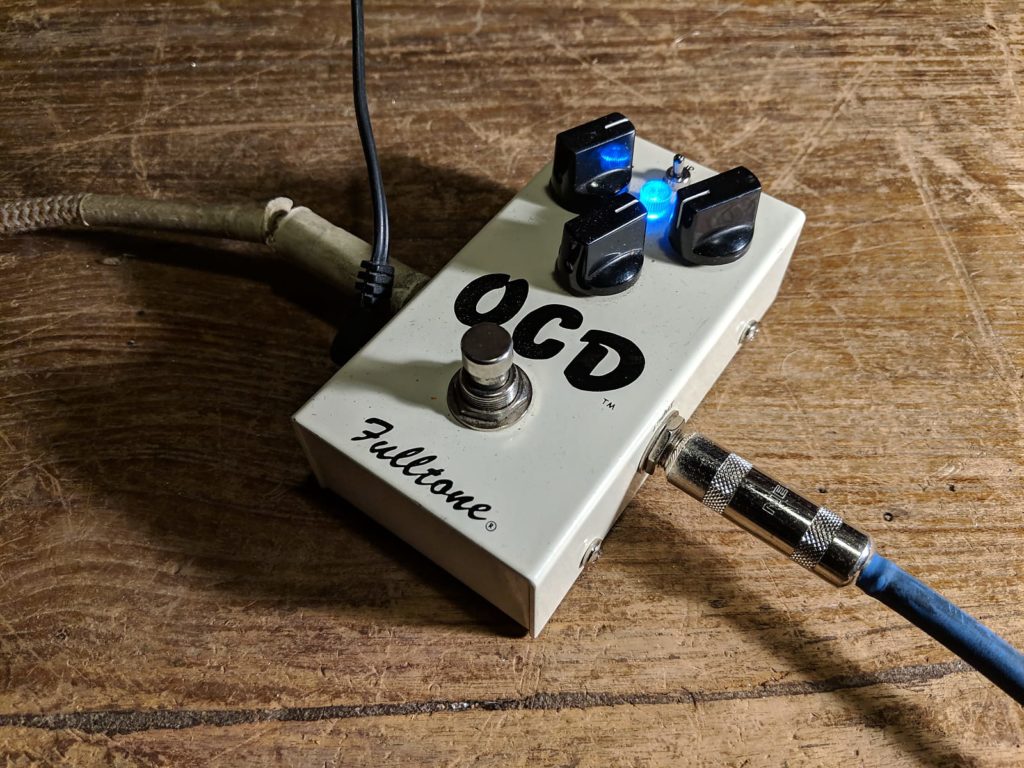 Fulltone OCD : Well … if the VOX AC30 is a reference in terms of amplification, the Fulltone OCD is to overdrive what Gibson is to guitar, namely a reference. Probably the most popular and coveted overdrive on the market. Versatile, but with a very personal signature, it is a choice that may seem surprising at first sight for a guitarist playing on Vox. Indeed, the amplifier is known for its British sounds and the OCD rather US. But after discussion with Jey we understood. "Actually, I love the sound of VOX, but our repertoire sometimes forces me to find more US sounds. This OCD allows me to have a fatter saturation while maintaining the dynamics of the lamps and the responsiveness of the Telecaster. »
An obvious choice when you know what this pedal is capable of: from the softest overdrive to saturation worthy of a distortion.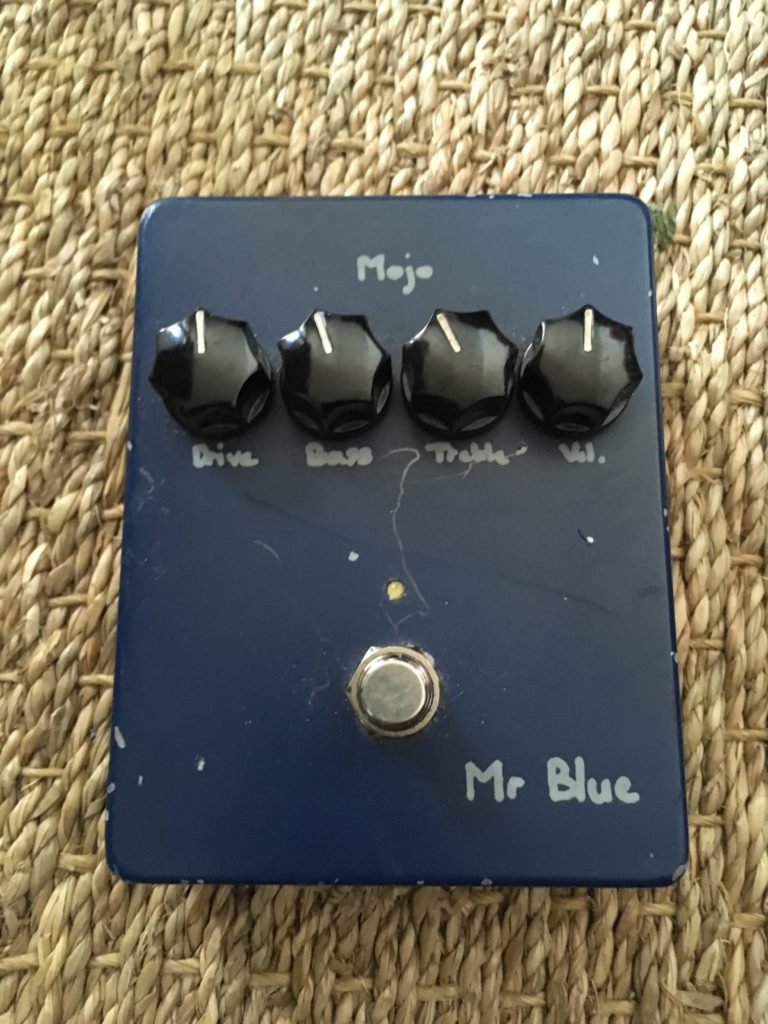 Mojo Mr. Blue : What ? a Vox AC30 emulation in a … Vox AC30? This choice surprises you, doesn't it? But thinking about it for a moment, it's a rather interesting choice. During our article on overdrives, we saw together that overdrives allow you to push the natural overdrive of the amplifier you are using while adding its own grit. If you have had the chance to play on a VOX AC30 (and even an AC15) you will quickly find that it is an unusable amp at human volume. Don't forget one thing: The latter was designed to release a Clean/Crunch in a large concert hall, at a time when transplanting did not exist. You will therefore probably be deaf before reaching the natural saturation of your Vox. By adding a Vox-like overdrive, it is now possible to simulate a white-hot AC30 while keeping a more reasonable volume. This type of pedal is reminiscent of our Carl Martin AC Tone https://www.effects-area.com/pedales-effets/carl-martin-ac-tone.php that we invite you to discover.
Very good choice sir!
 Xotic RC Booster : Definitely, our guitarist of the day is a big fan of saturations and boosts of all kinds. The Xotic RC Booster is, like the OCD, a benchmark in the world of effects pedals. Offering many possibilities, it has for several years delighted many guitarists such as Paul Gilbert, Andy Timmons or Billie Joe Armstrong. It's a real Swiss army knife that can act as a clean boost on a clean channel, a boost on an overdrive channel or to shake up overdrives. This last application is Jey's choice.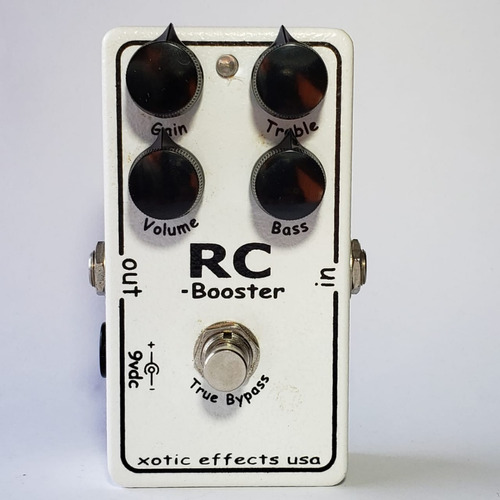 "I usually use the VOX as a base clean or very slightly crunchy. Thanks to my overdrives, I can have a rhythmic sound oscillating between the British universe with the Mr Blue and the US with the OCD. But sometimes I need more. By more I mean a Lead sound, especially on solo passages. It is in these moments that the RC Booster comes into play. It allows me to boost my overdrives, pushing the Vox in turn and creating a big saturation. The RC also allows you to slightly boost the Clean/Crunch channel of the Vox, but I prefer to shake my overdrives to avoid volume problems! »
Boss DD-200 : Finally a modulation! The DD-200 is a very powerful digital delay allowing many experiments. Where most analog delays do not exceed 800ms or even 1 second of "delay", the latter is capable of pushing the vice up to 5 seconds! Beyond that, the DD-200 allows you to program several presets and has a tap tempo.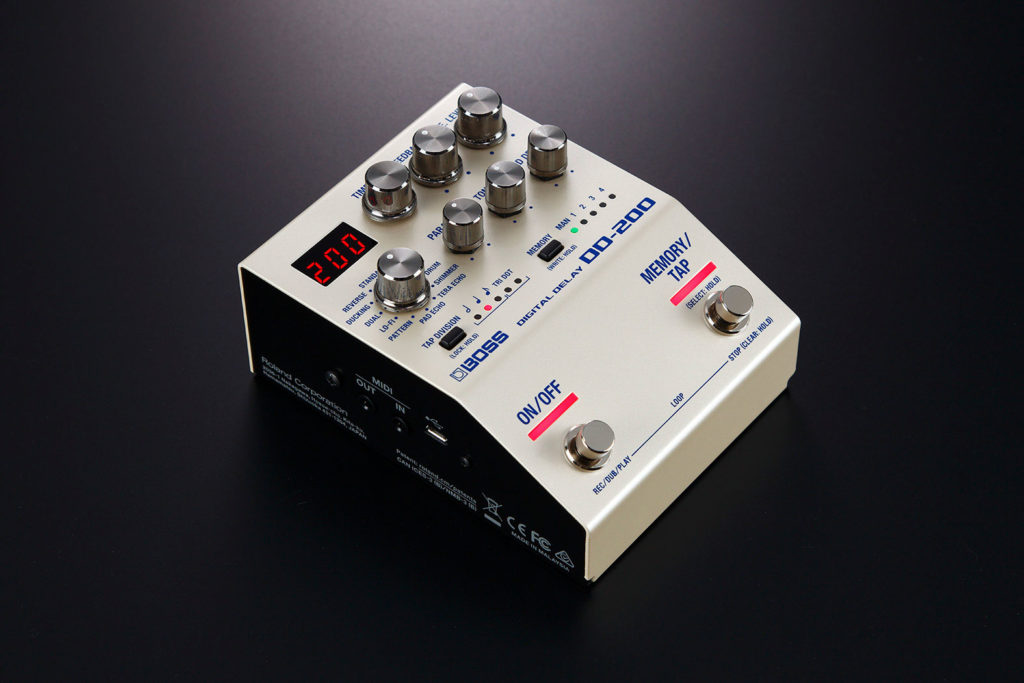 "Previously I used an MXR Carbon Copy. I used it as a slapback and loved how it looked. On the other hand, it bothered me not to have a Tap Tempo function. So I set my sights on the DD-200 from Boss to fill this gap. The DD-200 is really great. Being able to program presets increases the possibilities live. No need to worry about settings anymore. It can also act as a looper, but for now I don't see the point! »
Well thank you Jey!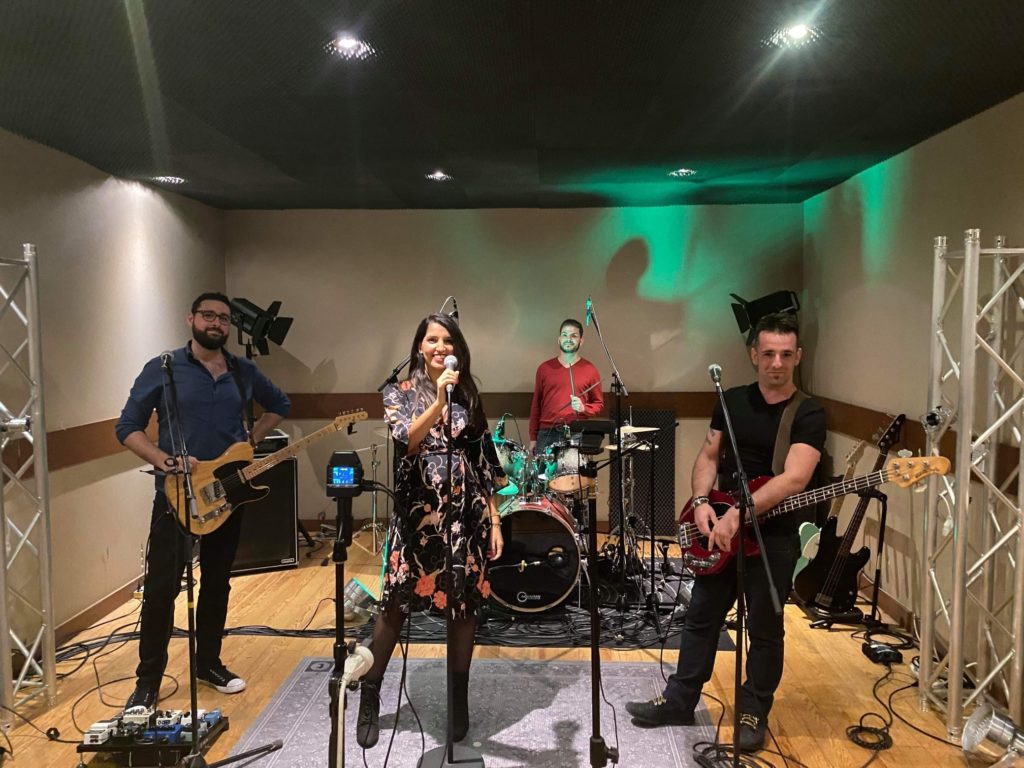 You know, in this particular time when going to concerts seems like an unhealthy fantasy, we need bands like The Lonely Pears. Groups deploying treasures of imagination to stay in touch with the public, whether through Twitch lives or simply by being present on social networks. These positive waves, made accessible by the energy and the natural symbiosis of the quartet, warm the heart and make us think that the best is yet to come. And then… rediscovering the greatest classics of rock and pop, it's still pretty cool too, isn't it?
Facebook : https://www.facebook.com/thelonelypears
Youtube : https://www.youtube.com/channel/UCgkhJgWkbVPGEr3h8PLsFEQ